Description
These are the highest quality Garage Door Oil Tempered Torsion Springs on the market. All springs come complete with both a winding cone and a stationary cone which makes for an easy installation.
Features
Black coated corrosion resistant torsion springs
Installation
If only one spring has broken, you can expect that the other one will break very soon. That is why we always recommend replacing them in pairs. We offer professional installation in the Kelowna area. Please contact us for a free estimate.
If you need a size that is not listed, email us the size and we will order your part for a quick delivery.
It is very important to have the right spring for your door, if the spring is not matched correctly to the door, it will not work properly and can be dangerous or damage your operator. Make sure that you measure the spring correctly and if you have questions feel free to contact us.
How to Measure Your Current Garage Door Spring
Step #1 Determine the Wire Size.
Measure the length of 10 coils and then measure the length of 20 coils. Using the chart below, determine the wire size of your old springs. (Example: 10 coils measure 2 1/2" and 20 coils measure 5" then the diameter of your spring is .250)
10-Coil
Length

20 Coil
Length

WIRE
SIZE

1 3/4"

3 1/2"

0.1770

1 7/8"

3 3/4"

0.1875

1 15/16"

3 7/8"

0.1920

2"

4"

0.2000

2 1/16"

4 1/8"

0.207

2 3/16"

4 3/8"

0.2187

2 1/4"

4 1/2"

0.2253

2 5/16"

4 5/8"

0.2343

2 3/8"

4 3/4"

0.237

2 7/16"

4 7/8"

0.2437

2 1/2"

5"

0.2500

2 5/8"

5 1/4"

0.2625

2 3/4"

5 1/2"

0.2730

2 13/16"

5 5/8"

0.2830

2 7/8"

5 3/4"

0.2890

2 15/16"

5 7/8"

0.2950
Step #2 Measure the inside diameter (ID) of the spring.
1 -3/4" and 2" are the most sizes.
Step #3 Measure the length of the UNWOUND coils of your spring.
Do not measure the end caps (cones) of the springs. If your garage doors has left and right wound springs, measure both, as they may be different. If the spring is broken measure each piece and add the measurments together to get the length. If it is still in one piece it will need to be unwound and be completely relaxed to get the proper measurment.
Step #4 Determine if your spring is LEFT WOUND or RIGHT WOUND. (Only needed if ordering a single spring)
To ensure the correct wind, please see the winding chart below.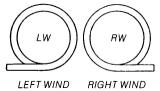 NOTE: The side of the door where the spring is located does not indicate the wind of the spring. Most winding cones are color-coded for easy identification. Right wound springs (RW) should have the red winding cone mounted on the left side of the door with the RED winding cone pointing to the LEFT.

Left wound springs (LW) should have the black winding cone mounted on the right side of the door with the BLACK winding cone pointing to the RIGHT.
WARNING: Never use screwdrivers or other substitutes for winding bars. Stand to the side of the bars and make sure to insert the bar all the way into the hole.
WARNING

:

Installing or repairing
a garage door can be dangerous task. Garage door springs and cables are under extreme tension and require appropriate safety precautions. Working with garage doors and openers could result in personal injury or death.

We recommend all installations, repairs, adjustments, and removals on garage doors be made by a qualified garage door technician. Any attempts to install, repair, replace, adjust garage doors or openers are done at your risk.

In no event shall Overhead Door Parts Canada be liable for damages of any kind, personal injury or death. User assumes all responsibility and risk for use of information and products purchased
.
By purchasing our products you agree to these terms.
Item #: .218 X 2" X 25 RHW - OT
1 - Garage Door Torsion Spring .218 X 2" X 25 RHW - OT